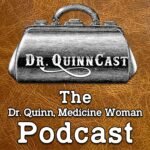 Sam Lindsay, an older independent woman, decides to end her medical treatment and take off into the wilderness. Dr. Quinn accompanies her and learns from the journey. Myra Bing goes into labor and Colleen finds what she is capable of.
In this episode, we discuss so many things, such as:
Is Sam too pushy?
Is Sully a voice of reason as Dr. Mike gets carried away with being impressed by Sam?
When did Sam write the letter to Dr. Mike that she reads at the end
Join Kelly and Mark as they discuss this and so much more in this entertaining episode!
Guess what?!
Kelly has her own Etsy store where you can find tons of amazing handcrafted items with a focus on Dr. Quinn, Medicine Woman and more! – please take a look!