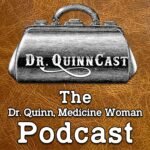 There's a colossal circus coming to town!
The residents of Colorado Springs participate in a circus when Heart and her daughter, Atlantis, come to town. While the town learns their circus acts, Sully and Dr. Mike bond over a trapeze, Colleen overcomes her fear of heights, and Dr. Mike convinces Heart to allow her to operate on Atlantis' webbed hands.
In this episode we discuss so much, including:
The fun opening scene as the town ramps up for the circus
Hank's excellent zingers and the funny lines from the crowd
The way Heart looks like she would fit right in on Magical Mystery Tour
the error of Matthew's ways when he never mentions Ingrid
Join Mark and Kelly as we discuss this and so much more in this silly and unusual episode!
Guess what?!
Kelly has her own Etsy store where you can find tons of amazing handcrafted items with a focus on Dr. Quinn, Medicine Woman and more! – please take a look!