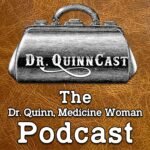 In this episode, Matthew decides that the world of law is something he is interested in..  Horace gets a broken nose, twice and Dr. Mike gets a lesson in justice! 
In this wild episode, we continue we discuss questions such as:
Do you think Michaela was a good judge and representative of the law?

Did Horace deserve any of the punches that Hank gave him?

Is it really possible Dr. Mike doesn't know what "habeas corpus" means?
Join Kelly and Mark as they break down these questions and more!
Guess what?!
Kelly has her own Etsy store where you can find tons of amazing handcrafted items with a focus on Dr. Quinn, Medicine Woman and more! – please take a look!