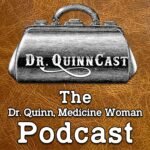 It's Halloween time and just as Colorado Springs gears up for a spooky good time, a real Mr. Monster falls into their laps! Luckily, Dr. Mike is able to read a chapter in a medical textbook and perform plastic surgery flawlessly. In this entertaining episode, we explore questions like:
is it weird that Mr. Monster just instantly becomes part of the family?
is the town too nosy about Michaela's experiments?
did Dr. Mike do a good job? She SURE DID.
Join Kelly and Mark as they explore these questions and more as they kick off the holiday season!
Guess what?!
Kelly has her own Etsy store where you can find tons of amazing handcrafted items with a focus on Dr. Quinn, Medicine Woman and more! – please take a look!