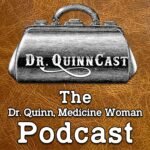 This is Part 3 of The Summer of Hank! #summerofhank
The Summer of Hank continues!
In this installment of The Summer of Hank, Kelly and Mark discuss everything about this episode – we hope you have a great time listening!

Orphan Train is the fifteenth episode of Season 2 of Dr. Quinn: Medicine Woman, and the thirty-second episode of the series.
Dr. Mike spends time with the Reverend doing her best to help orphans find homes, while they stay with her in the meantime. The Reverend becomes interested in adopting children of his own, resulting in him proposing to Dr. Mike. She must decide whether to keep courting Sully or marry the Reverend.
While the orphans stay with Dr. Mike, Matthew, Colleen. and Brian begin to feel like she has no time for them.
Meanwhile, Robert E. makes a wooden leg for an orphaned amputee, and Hank hires Jennifer, a young orphaned girl. Due to hiring her, Hank offers to let Myra out of her contract. Myra must decide what she wants to do.
Orphan Train originally aired on January 29, 1994

Now there's a place to buy Dr QuinnCast Merchandise!
https://www.etsy.com/shop/ForYourLittleHouse
Maybe you want something a little more handmade?
Kelly has her own Etsy store where you can find tons of amazing handcrafted items with a focus on Dr. Quinn, Medicine Woman and more! – please take a look!
https://www.etsy.com/shop/HandCraftLittleHouse