Bonus Episode: An Interview with Shawn Toovey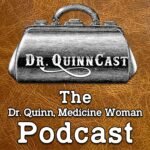 SPECIAL EPISODE: AN INTERVIEW WITH SHAWN TOOVEY!
Shawn Toovey played Brian Cooper on Dr. Quinn, Medicine Woman.  Shawn was kind enough to speak with Kelly and Mark about his time on DQMW and all of the things he has been up to since.
Brian discusses:
His personal experience with recently watching the series with his family 
Would he be interested in revisiting his character in a possible reboot?
Memories from the set
and more!
Thank you Shawn for taking the time to speak with us! It was a real honor!
Guess what?!
Kelly has her own Etsy store where you can find tons of amazing handcrafted items with a focus on Dr. Quinn, Medicine Woman and more! – please take a look!