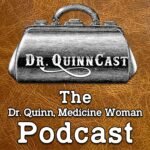 SULLY IS A GOVERNMENT EMPLOYEE!
In the third installment of #Sullypalooza, Sully is sworn in as Indian Agent. Although his monthly salary has increased exponentially, Sully detests the paperwork he must file and experiences friction with his new boss. Meanwhile, the boss is in cahoots with the businessmen in town: Loren takes the supplies meant for the Cheyenne and resells them to his own customers while Hank mixes up batches of rot gut whiskey.
In this conflict-laden episode, we continue to explore Sully's character and discuss questions like:
Where is Sully keeping all these suits?

Does Sully complain too much about filing paperwork considering how much he is being paid?

Is this one of Loren's more ethically reprehensible episodes?
Join Kelly and Mark as they break down these questions and more as #Sullypalooza continues!
Guess what?!
Kelly has her own Etsy store where you can find tons of amazing handcrafted items with a focus on Dr. Quinn, Medicine Woman and more! – please take a look!