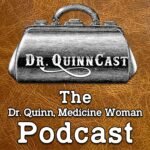 MYRA LEAVES HANK!
What happens when Hank drunkenly crashes Myra and Horace's engagement party and Sully left his tomahawk in his other suit? Sully has to knock Hank out with a block of wood, of course! As a backdrop to the developing relationship between Myra and Horace and Hank's resentment at Myra's departure, Brian receives a telescope and a Jules Verne novel from Micheala's mother. Colleen, unfortunately, is left high and dry in the gifts department.
Do you think Myra is too sympathetic to Hank?
Does the relationship between Myra and Horace have a problematic foundation? Are they doomed from the start?
Can you whisper "Hhhhhhank" like Micheala does?
Join Kelly and Mark as they explore this action packed episode in the first installment of LUNARPALOOZA!
Guess what?!
Kelly has her own Etsy store where you can find tons of amazing handcrafted items with a focus on Dr. Quinn, Medicine Woman and more! – please take a look!