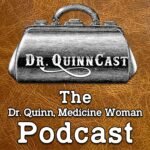 TYPHUS! QUARANTINE! QUININE!
"The Cheyenne say only the white man needs a watch to tell him when he's hungry."
Sully's funny quip at the opening of this episode launches a tragic pathway for the Cheyenne as the army bestows typhus laden blankets to the tribe. As the body count rises, tragedy strikes close to town as well when Matthew comes down with the typhus and the immigrant camp is affected as well. As a backdrop to the tragedy, Brian prepares to portray George Washington in the town pageant.
Do you agree that only engaged whores should be allowed in the pageant?
Is this Wolf's most important mission to date?
How great is Cloud Dancing's character in this episode?
He nailed the portrayal of the complicated emotions that accompany the devastation wrought by the typhus!
Join Kelly and Mark as they explore these questions and the way that virtually every group in town is affected this episode that is an interesting mix of unspeakable tragedy with some lighthearted moments sprinkled throughout.
Guess what?!
Kelly has her own Etsy store where you can find tons of amazing handcrafted items with a focus on Dr. Quinn, Medicine Woman and more! – please take a look!