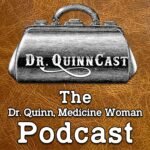 CONFLICT! RONDELAY! SULLY THE SAVAGE!
What happens when Dr. Mike wants a window that costs twelve more dollars than Sully has? She orders the window anyway, of course!
Does Sully overreact about the money situation?
Was Micheala wrong to buy the window behind Sully's back?
How good does Sully look in his Sully the Savage costume?
The tomahawk isn't the only think smokin' in this episode! Join Kelly and Mark as they explore this remarkable episode!
Guess what?!
Kelly has her own Etsy store where you can find tons of amazing handcrafted items with a focus on Dr. Quinn, Medicine Woman and more! – please take a look!