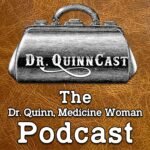 IT'S SULLYPALOOZA!
Support the Podcast and get FREE stuff!
Become a Patron!
In the fourth and final installment of #Sullypalooza, we explore the final Sully-centric episode that precedes his wedding to Michaela. Shortly after the massacre at Washita, Sully struggles with his position as Indian Agent and decides that he wants to resign. Along the way, he encounters Loren who is out to take advantage of the Cheyenne land that is now for sale. As Sully and Loren are forced to work together, the complicated nature of their relationship is again revealed as tensions simmer but they ultimately help each other.
In this episode, we explore topics such as:
Is Michaela too restrictive on Brian's desire to create a flying machine?
Is it morally wrong for Loren to want to buy the Cheyenne land that is for sale?
Is Sully too quick to want to leave his position as Indian Agent?
And is Loren right to call him out on behaving cowardly?
Join Kelly and Mark as they conclude Sullypalooza!

Guess what?!
Kelly has her own Etsy store where you can find tons of amazing handcrafted items with a focus on Dr. Quinn, Medicine Woman and more! – please take a look!
https://www.etsy.com/shop/HandCraftLittleHouse