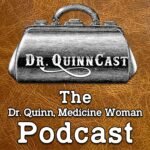 SULLY'S A WANTED MAN!
In our second installment of #Sullypalooza, Dr. Mike is called away on doctoring business in a nearby town, leaving the kids in Sully's care.
Nothing could go wrong, right? Except everything goes wrong whenever Dr. Mike isn't around to stop it! Sully's becomes involved to try to stop a Dog Soldier attack, getting shot and becoming a target of blame in the process. We get the unlikely dream team of Colleen, the Reverend, and Jake to the rescue!
In this action packed episode, we explore questions such as:
Who cut Sully's hair before Dr. Mike was in the picture?
Is this one of Jake's finer moments?  And perhaps one of Dorothy's?
Does Sully ever tell Dr. Mike about how he got the hole in his back?
Join Mark and Kelly as they explore this exciting episode and continue the deep exploration of Sully that is what #Sullypalooza is all about!
Guess what?!
Kelly has her own Etsy store where you can find tons of amazing handcrafted items with a focus on Dr. Quinn, Medicine Woman and more! – please take a look!