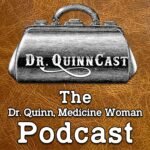 IT'S A SULLYPALOOZA!
In the first of the four part Sullypalooza event, join Mark and Kelly as they dive deep into Sully's character and discuss his attributes, his past, and his development on the show.
"The Healing" is such an important episode for our understanding of Sully, Loren, and the strained relationship between the two due to Abagail's marriage to Sully and her passing. In this episode, we explore interesting character traits and background information like:
how long was Sully married to Abigail?
is Michaela overstepping her bounds in insisting that Sully put Abagail to rest?
where does the blood transfusion leave the status of Sully and Loren's relationship?
Ride along as Kelly and Mark break down all this and more!
Guess what?!
Kelly has her own Etsy store where you can find tons of amazing handcrafted items with a focus on Dr. Quinn, Medicine Woman and more! – please take a look!