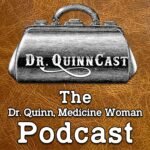 BOSTON BAKED BEANS, BOSTON CHOWDER AND FOR DESSERT BOSTON CREAM PIE!
What happens when Brian, Matthew and Colleen play matchmaker for Dr. Mike? Was it too much for Brian to ask him to be his pa and could Sully have been nicer about it?
Where does Sully keep his fancy duds?
Can a man die from just drinkin?!
Is it true that no one gets sick of Grace's cookin?
Join Mark and Kelly as they explore this action packed and important episode!
Guess what?!
Kelly has her own Etsy store where you can find tons of amazing handcrafted items with a focus on Dr. Quinn, Medicine Woman and more! – please take a look!