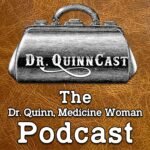 This is a great episode! Kelly and Mark discuss so much including
Does the Reverend really OWN the church?
If he DID own the church, why not use it for collateral for Preston?
Why is everyone borrowing so much from the church and not paying it back?
Is the Rev a compulsive spender?
Join Kelly and Mark as they break down these questions and more!
Guess what?!
Kelly has her own Etsy store where you can find tons of amazing handcrafted items with a focus on Dr. Quinn, Medicine Woman and more! – please take a look!