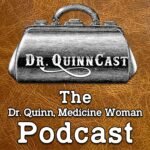 Dr. Mike and Co. decide to go to Washington, D.C. to speak on behalf of the Cheyenne. Along the way, they run into all kinds of adventures, including becoming best friends with the First Family and learning the Sully deserted from the army.
In this RECORD LENGTH RECORDING, we explore so much, including:
the holes and inconsistencies with Sully's past 
Sully's unfairness in denying Dr. Mike the opportunity to take the Federal government job without even thinking about it
the completely wacky plot in which the Colorado Springs gang becomes the go-to friends of the Grants
Join Mark and Kelly as they discuss this and so much more! It goes on for a looooong time, so buckle up!
Guess what?!
Kelly has her own Etsy store where you can find tons of amazing handcrafted items with a focus on Dr. Quinn, Medicine Woman and more! – please take a look!