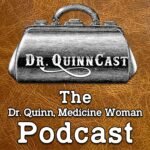 It's time to review one of the most controversial and cringey episodes—Another Woman! When a white woman is "rescued" by soldiers, Dr. Mike takes her in to help her. She presents Dr. Mike with two problems: she has a medical condition AND she has her eye on Sully.
In this episode we discuss so much, including:
Should Dr. Mike have said something to Catherine about her and Sully?
Sully's extreme denseness and flirting with Catherine right in front of Dr. Mike
Sully's continued obliviousness when Dr. Mike's "not letting this go"—seriously, Sully
Join Kelly and Mark as the discuss this and so much more in this crazy episode!

Guess what?!
Kelly has her own Etsy store where you can find tons of amazing handcrafted items with a focus on Dr. Quinn, Medicine Woman and more! – please take a look!