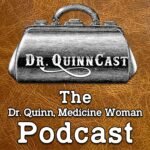 Today we discuss the fun and unforgettable effort when Matthew becomes Sherriff!
In this episode, we discuss so much, including:
Matthew's swagger—he hitting it hard right from the beginning in this ep!
the fun, western-y musical score in this episode
the many twists and turns as Matthew first shoots Horace and then guns are outlawed in Colorado Springs
Join Mark and Kelly as they discuss this and more in this amazing episode!

Guess what?!
Kelly has her own Etsy store where you can find tons of amazing handcrafted items with a focus on Dr. Quinn, Medicine Woman and more! – please take a look!