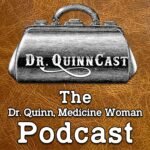 It's Thanksgiving and Colorado Springs is bustling! Preston's father from Boston visits for the groundbreaking ceremony of the Chateau, Andrew departs from Michaela to run the medical practice at Preston's, and Michaela strives to make a perfect dinner for Katie's first holiday. While Preston struggles with his father, bad weather is on the way that makes everyone reassess their holiday priorities.
In this episode we explore questions like:
Is Michaela too upset about Andrew leaving, especially considering she didn't really want him there at the beginning?
How much does Preston's family dynamic, particularly his relationship with his father, explain Preston's qualities that others disdain?
Who was in the wrong for the payment with the surrey situation: Horace or Preston?
Join Mark and Kelly as they explore these questions and more in this action-packed Holiday episode!
Guess what?!
Kelly has her own Etsy store where you can find tons of amazing handcrafted items with a focus on Dr. Quinn, Medicine Woman and more! – please take a look!