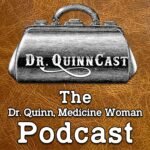 Just as the town is gearing up for the Christmas holiday, a Jewish family, the Frankels arrives in town. Soon the town is in an uproar over the Frankels and target Itzhak in particular for peddling his wares on the streets of Colorado. Meanwhile, Brian befriends Aaron Frankel and Dr. Mike and Mrs. Frankel clash.

In this episode, we explore questions such as:
Why is everyone just standing around watching while Jake decorates the tree by himself?

Is Michaela too pushy with Mrs. Frankel?

Does Hank become one of the most deeply developed characters of the series? It's so surprising when he sticks up for the Frankels!

Is this episode one of the ugliest examples of the town mob at play?
Join Mark and Kelly as they explore these questions and much more in this special Hanukkah release!
Guess what?!
Kelly has her own Etsy store where you can find tons of amazing handcrafted items with a focus on Dr. Quinn, Medicine Woman and more! – please take a look!