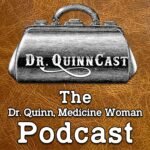 This is Part 1 of The Summer of Hank! #summerofhank
Let's all go to the beach and celebrate!
In this episode we discuss Hank's relationship with 'his girls' and break down the fact that he has a son.

"A local woman dies and Sully and Michaela find a boy hidden in the closet of her house. Dr. Mike takes the boy in while they try to determine who he is and if he has any family.
SPOILER:  He's Hank's son!"
The Secret originally aired on May 15, 1993

Now there's a place to buy Dr QuinnCast Merchandise!
https://www.etsy.com/shop/ForYourLittleHouse
Maybe you want something a little more handmade?
Kelly has her own Etsy store where you can find tons of amazing handcrafted items with a focus on Dr. Quinn, Medicine Woman and more! – please take a look!
https://www.etsy.com/shop/HandCraftLittleHouse