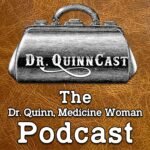 MORPHINE! CRIME! HOME INVASION!
Tom, Dorothy's smooth-talking Civil War veteran son, comes to Colorado Springs for a visit. As viewers soon learn, Tom's carrying around more from the war than just the uniform he still wears: Tom is addicted to morphine!
Does Dorothy enable her son?
What's in that bottle that Tom steals from Loren and why does he steal that instead of paying a visit to the saloon?
What lengths is Tom willing to go to get a little bit of the 'phine?
Join Mark and Kelly as they explore these questions and more—especially Tom's goofy addict face— in this action-packed episode!