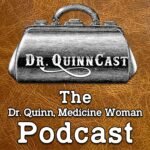 Happy Thanksgiving!  Kelly and Mark talk Thanksgiving foods and discuss everything about this wonderful episode!  We hope you enjoy this special Thanksgiving episode!
Giving Thanks is the seventh episode of Season 2 of Dr. Quinn: Medicine Woman and the twenty-fourth episode overall.
It's Thanksgiving and the area is in the middle of a drought. Dr. Mike believes the Cheyenne can help the people in town survive, but the suspicions and prejudices of Jake and Loren threaten to get in the way.
Jake and Loren steal water from what they believe to be the Cheyenne's secret supply of water, and sell it to others in town, despite warnings from Cloud Dancing. It doesn't turn out quite like they expected it to and turns into an outbreak of dysentery .
Dr. Mike and Sully take their first steps at officially courting.
Giving Thanks originally aired on November 27, 1993

Now there's a place to buy Dr QuinnCast Merchandise!
https://www.etsy.com/shop/ForYourLittleHouse
Maybe you want something a little more handmade?
Kelly has her own Etsy store where you can find tons of amazing handcrafted items with a focus on Dr. Quinn, Medicine Woman and more! – please take a look!
https://www.etsy.com/shop/HandCraftLittleHouse