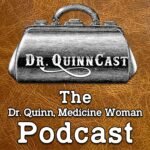 DOROTHY WRITES A TELL ALL BOOK!
Dorothy is ecstatic to receive the first shipment of her recently published book. While the townsfolk eagerly purchase copies, nearly everyone is upset at the personal stuff that Dorothy shared. Soon, Dorothy finds herself in conflict with almost everyone, including Micheala, and she thinks about quitting writing. In this episode we explore questions like:
Who is right to be upset-Dorothy or the town?
Is it even reasonable to consider that this book would be the smash hit they claim it is?
Does the town forgive Dorothy too quickly?
Join Kelly and Mark as they explore this fun (but sometimes fury-inducing) episode!