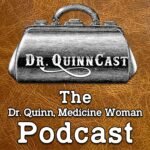 "When the silver miners strike, Matthew is eager to take a scab job mining for the quick cash. But, with disastrous results."
Join Mark and Kelly as they discuss this suspenseful episode!

Guess what?!
Kelly has her own Etsy store where you can find tons of amazing handcrafted items with a focus on Dr. Quinn, Medicine Woman and more! – please take a look!