Bonus Episode: An Interview with Beth Sullivan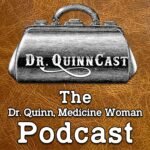 SPECIAL EPISODE: AN INTERVIEW WITH BETH SULLIVAN!
Beth Sullivan, creator and executive producer of Dr. Quinn, Medicine Woman recently kindly took the time to speak with us and we are very excited to present this interview to our listeners!
Beth discusses:
The Creation of Dr. Quinn, Medicine Woman
The Characters and where they came from
Memories from the set
and more!
We both had so much fun listening to all Beth had to say and we hope you enjoy it as well!
Guess what?!
Kelly has her own Etsy store where you can find tons of amazing handcrafted items with a focus on Dr. Quinn, Medicine Woman and more! – please take a look!