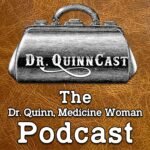 METEORITES! CHEZ GRACE! APPENDICITIS!
What happens when Dorothy reports a fake story as fact? Colorado Springs thinks the world is going to end, of course!
While the world is ending, Hank and Loren take advantage of the panic to make some money. Meanwhile, Jake stocks up on the whiskey for his hole in the ground, Robert E. invests in a hammock, Grace revamps her café, and Matthew tries to rush into marriage. Brian thinks it's all his fault while Dr. Mike is too scientific to think anyone's actions have any merit.
Is Micheala way too concerned about what everyone thinks and does?
Does Myra's pregnant belly expand way too quickly?
Is Dorothy somehow the most eligible woman in town?
Join Kelly and Mark as they explore these questions and more in the second installment of #Lunarpalooza!
Guess what?!
Kelly has her own Etsy store where you can find tons of amazing handcrafted items with a focus on Dr. Quinn, Medicine Woman and more! – please take a look!